Your new mattress is a substantial, long-term investment. Guardsman mattress protectors provide exceptional comfort, assuring a better night's sleep even as they extend the life of your mattress. We designed our mattress care products with your comfort in mind, featuring fabrics that offer a range of sleep experiences, including temperature control and plush comfort. All Guardsman mattress protection products are machine washable and dryable, so you can care for them as easily as they take care of you. The mattress protectors are also treated with anti-dust mite treatment, waterproof yet breathable layer to protect your mattress from human bodily fluid and stains.
Guardsman mattress protectors are suitable for use by incontinence sufferers. Guardsman mattress protectors will provide you with exceptional comfort and keep your mattress fresh and clean.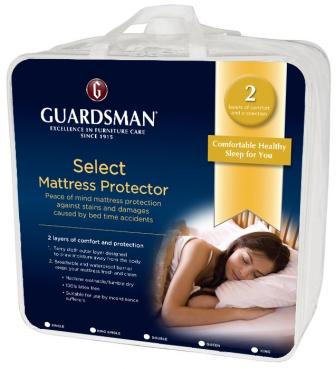 Guardsman Waterproof Mattress Protector
2 layers of comfort and protection designed to help give you a comfortable and healthy sleep.
Product Description
Waterproof yet breathable barrier
Comfortable, healthy sleep for you
Rest better, breathe easier with a fresher and cleaner mattress
Protection against accidental stains and damages
Suitable use by incontinence sufferers
Guardsman® Select Mattress Protector features a terry cloth top layer, blends natural cotton with an effective polyester material, designed to absorb bodily fluids from your body such as sweat, offering a comfortable sleep temperature without changing the feel of your mattress.
Beneath this soft  fabric is a breathable, waterproof shield layer that protects your mattress from moisture that can cause mould, mildew, fungus, and bacteria to grow inside. This barrier prevents dust mites and pet dander from settling in your mattress, dust mites leave residues that can cause allergic reactions and affect breathing.
It also protects your mattress against stains, spills, and other mishaps, keeping it fresher than conventional mattress pads.