There are various of fabrics and the cost are different in different range or quality. All fabric need protection to last longer like the leather, but the protection or caring method for most of the ranges of fabric are similar and usually same cleaner is applicable for most type of  fabric, unlike leather which need different cleaner for different type of leather. Fabric is more commonly used in the upholstery because of cost effective compare to leather. Furthermore, there are various of design and quality you can choose for your furniture. Fabric life span also varies depending on the type of fabric. Basically woven type of fabric with 450gm/m2 above will last longer up to 10 years. Of course, the fabric has to be protected and clean consistently.
Remove Stain & Maximum Protection with GUARDSMAN ®
GUARDSMAN ® – Excellence in Furniture Care Since 1915. is always a trusted brand with the best formula to clean and protect your fabric. With GUARDSMAN ® Fabric Care Kit and Fabric Protector, it has the complete cleaning and protection to your new fabric lounge! Visit us today for free demo and best offers!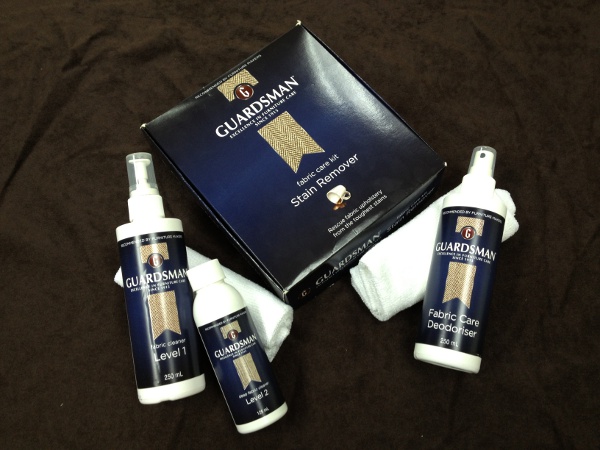 Every Fabric Care Products has their instructions to follow to achieve the best results and protection, so does GUARDSMAN ®. Our complete Fabric Care Kit – Stain Remover includes the following,
White Cleaning Cloth (x2)
If you are having a new fabric furniture, protect it with Fabric Protector before it gets stubborn stain! Our Fabric Protector able to enhance the features of water repellent, stain repellent to your fabric surface without affecting the softness and hand feel of your fabric! Besides furniture, Guardsman Fabric Protector can be use on any fabric surfaces that you wish to protect. It is fully biodegradable, silicone free, environmental friendly, and allergic free so you can apply it with no worries!
GUARDSMAN ® Fabric Protector 312g
Further Real Life Knowledge
Here are some valuable hints in life to share with you to protect your fabric lounge!
Avoid leaving your fabric furniture from direct sunlight to avoid colour fading.

Vacuum your fabric furniture frequently depending on your usage, ideally once in 1 – 2 months. Use a clean vacumm cleaner, not that which you used to vacuum the floor! If the fabric furniture is being heavily used, vacuum it once every 2 weeks!

Avoid from high temperature surrounding/ items such as iron or hair dryer, which it will cause the leather to stiffen and crack

Make use of Fabric Cleaner whenever there is a stain to prevent the stain from getting into the surface. Be very sure to follow the instructions on the products correctly!

When there is an odour from you fabric furniture, use the Fabric Deodorizer! Do not sun it! Even if you insist to do so, please  keep it within 3 hours or the colour of your fabric furniture will be fading very soon.
Guardsman Fabric Protector to protect the fabric surface from water and stain while maintaining the original look and feel of the fabric furniture and leave no soil-attracting residues. Guardsman has been protecting fabrics from stains for more than 40 years. Our do-it-yourself fabric protection products are based on the same formulations that are used by professional furniture makers and furniture dealers, and form the basis for stain prevention in many of our Furniture Protection Plans.